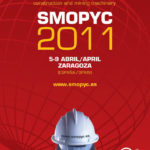 The presence of Euro Implementos in this new edition of Smopyc last April has been important again. This time, the stand of this leading national manufacturer of attachments for light and medium machinery was located in Hall 6, on E-D Street, with a space of 210m2. The most outstanding equipment exhibited at this event were:
– OP3.2M backhoe "monoblock"
-01AM1600 and 01AMR1800 augers, with chain transmission (AM) and with reductor (AMR)
– Broom bucket 03.CB.1700, 1700 mm working width, 400 brinells bolted blade and corner plates for easy change, patented internal brush working regulation system, ST52 steels, quick brush change system, removable bolted protective cover, hydraulic side brush, adjustable spray irrigation system,
-Broom bucket 03.CBÑ.1700 heavy duty, special for rental companies, 1700 mm working width, quick brush change system, Danfoss or Parker hydraulic motor with direct shaft drive, special ST-52 steel plate width, bolted (not welded) 450-brinell dual-purpose wear-resistant blade and end bits, patented internal brush consumption adjustment system, Gates Megatuff or Parker No-skive hydraulic hose.
– Broom bucket 03.CBTI.1700, 1700mm sweeping width, integral cover, built in st-52 steels, Danfoss, Parker or White hydraulic motor, polypropylene brushes of 423mm useful pile length (standard market model). Blade and end bits made of special anti-wear steel of 450 brinell hardness. Double use screwed blade. Hose connection to ssl with double mesh, internal brush consumption adjustment system, so that the side is completely clean reducing the minimum distance to the wall (Euro Implements patent), bichromated shaft to avoid corrosion.
– Industrial sweeper 02.EL.1500, with hydraulic side brush and sprinkler irrigation system of 120 lts., with special high density brush of 65% flat steel and 35% polypropylene that offers a sweeping quality unmatched in systems without aspiration, brush that adapts to the ground to be oscillating as well as the collection box that incorporates hydraulic opening and closing system design and Euroimplementos patent, and allows direct clean discharges in containers.
– Industrial grapple 07.GI.2350, 2350 mm working width for loaders, in reinforced version, ideal for debris removal, treatment and classification of materials, handling industrial waste. Large gripper opening, independent cylinders per gripper for a perfect grip of the material to be transported. Special anti-wear blade of 450 brinells.
-Grader 09NB2300, for skid steer loader, with lateral displacement of the blade, 2300mm, first quality steels, floating axle with pneumatic wheels and controls in cabin by means of push button panel.
-Optimal 10.DL.1000C boom mower, 3540mm maximum reach, with 1000mm working width brush cutter, electric push button controls, flow regulation valve with priority to the head.
-Mixer bucket with 350 lts capacity with hydraulic bottom unloading system, two-way movement axis, hydraulically opening safety cover, unloading tube for formwork.
Other products were exposed too:
SIMEX:
-PL 4520, planer with of 450 mm working width and 150 mm maximum depth, with exclusive Simex patent self-leveling system and auxiliary services of lateral displacement and hydraulic working depth. Mounted on demonstration bench.
-PL3515, self-leveling planer, 350 mm working width, 0-110 mm maximum working depth, with independent mechanical depth adjustment of the right and left skids and mechanical lateral displacement.
-ST200, asphalt float, 1900mm wide, with hydraulic regulation of the asphalt spreading width and coupling for ssl.